Winter is a time of year where your outdoor activities become limited, the days are shorter, and there are lots of lazy weekends trying to stay in and away from the cold. It's easy to spend your time wishing for warmer days where you could spend as much time outside adventuring as you wanted to. If you have a UTV, you might think about storing it for the winter, but that doesn't mean you have to! Having a UTV in the winter opens a whole array of activities you can use it for, whether it's for work or for play.

USING YOUR UTV FOR PRODUCTIVITY
Having a utility vehicle to help you when you're trying to get work done is the main purpose of having one. They are great any time you have some land you're trying to do work on, they're great for getting around further distances more quickly, and they're great for helping you carry all the things you need to bring with you! In the winter, all these things are still applicable, except now you get to do it all in the cold. Getting the tough job done more quickly is even more important in the winter so that you can back to warmth faster. That's where the UTV comes in.

You can also use a utility vehicle in a business setting for all kinds of different uses. A common one though is to transport people to and from large parking lots to events or show visitors around a large apartment building. Again, in the winter, people are desperate for quick transportation to the place they are going so they have to spend less time in the snow!



USING YOUR UTILITY VEHICLE FOR PLAY
Just because it's cold doesn't mean you can't play in your UTV anymore! There are all kinds of accessories you can add on to upgrade the comfort of your side by side. Aside from this, you can layer up and head out to the trails for some wintertime adventure. A standard Intimidator UTV is built to handle snow as it is, so just imagine the scenic views you can go looking for when you're exploring in the woods in some fresh powder!

MAINTENANCE FOR OPTIMAL WINTER PERFORMANCE
The cold temperatures can worsen any mechanical issues that may have been easy to look over in the summer. It's a great time of year to check the maintenance and make sure to give your UTV some love. Check tire pressures, lubricate your grease fittings, and definitely check your antifreeze fluid levels.

You will also want to allow your engine to heat up for a bit before you get moving. Just like any other engine, UTV engines need to warm up and get ready for the ride. If you are riding in the snow, be mindful of snow building up on key components of your UTV. Make sure to clear snow from any area that may impact your safety or rideability.

UPGRADE YOUR UTV TO BE MORE SNOW CAPABLE
Some upgrades you can add to your side by side give you added comfort all year round. Examples include windshield, roofs, or full enclosures. These add a significant warmth factor to the cab and block the wind, making your ride much more enjoyable at faster speeds. There are also heaters you can add if you really want to make it toasty!

Something else to consider is turning your UTV into a winter machine. You can add on snow plow accessories to help clear snow from driveways and other parts of your property. The Intimidator snow plow we offer has 650 lbs of down pressure to help you get leverage on the snow and get it moving. You'll never have to shovel snow again! (Well, never say never… )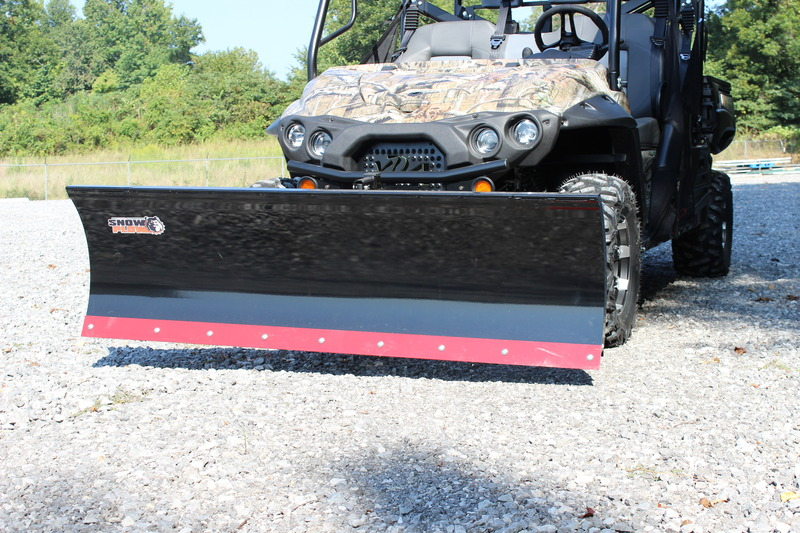 WHERE CAN I GET A UTV FOR THE WINTER?
No matter what your intentions are for your utility vehicle usages, there are tons of ways for you to make this winter more productive and fun filled with an Intimidator UTV. We have a variety of models that are more geared toward usefulness on some property, or some that are geared to people who love trail riding and exploring. Find an Intimidator dealer today to test drive some models and see which one is right for you!